When to Change Transmission Fluid

When to Change Transmission Fluid
| | |
| --- | --- |
| Automatic Transmission | About 60,000 to 100,000 miles |
| Manual Transmission | About 30,000 to 60,000 miles |
Every vehicle requires plenty of tender, loving care to perform at its best on the roads of Albuquerque, Rio Rancho, and South Valley. That's why it's always a good idea to refresh your memory on the services your Jaguar needs to stay healthy and happy during your journeys.
If you've ever wondered when to change the transmission fluid in your vehicle, we're here to give you some insight with this helpful guide created by the team at Jaguar Albuquerque. Thanks to the tips provided in this manual, you'll know exactly when to schedule your automobile's next checkup to keep its transmission in peak performance.
When Should I Change My Transmission Fluid?
Most automotive experts recommend that you change your vehicle's transmission fluid anywhere between 60,000 to 100,000 miles. However, if you own a car with a manual transmission, you should aim to replace your transmission fluid every 30,000 to 60,000 miles. To be sure of your transmission's timeline, check with your trusted service center to see if a fluid replacement is necessary; they'll be able to ascertain if and when you should seek out this procedure.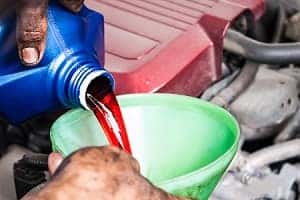 In addition to that, the suggested length of time to get a transmission fluid change will adjust based on your automobile's transmission type, make, model, and your driving conditions. For example, drivers who regularly traverse more extreme environments or climates may need to visit their mechanic every 15,000 miles for a transmission fluid replacement.
Regardless of which transmission you have or what your driving conditions may be, check your owner's manual for the recommended timeframe for changing your transmission fluid.
Caring for Your Transmission
There's nothing quite as exciting as the feeling of your vehicle seamlessly churning out power as you careen along the highway. To maintain the athletic performance of your Jaguar, it's important to check transmission fluids and get the occasional transmission fluid replacement. Here's why:
Removes Dirt and Grime: After you've spent the weekend driving along dusty terrains, it's likely that your vehicle has built up some dirt under its hood. By regularly changing your car's fluids, you'll clean the transmission, prevent corrosion, and preserve your automobile's capability. All in all, sticking to the recommended intervals for transmission fluid replacements will keep your car in sturdy shape for years to come.
Enhances Performance: Your transmission's fluid helps it serve up responsive gear shifts every time you press the pedal to the metal. By arming your Jaguar with routine transmission fluid changes, you'll flush out any dirt that could dampen the sporty functionality of your automobile. That way, you'll always receive that extra shot of power when you need it most.
Prevents Friction: Just as your engine's oil helps keep each part cool during your commutes, your transmission fluid provides the system with lubrication. Once those fluids begin to age or get dirty, your vehicle may not have enough grease to sidestep excess heat from building up under the hood.
Luckily, preventing all of this is as simple as changing your transmission fluid. That way, the intricate components of the transmission will effortlessly work together to move you over your path without producing friction.
Schedule Your Service Appointment Today!
At Jaguar Albuquerque, our goal is to provide drivers near Albuquerque, Rio Rancho, and South Valley with all the information they need to keep their cars in great condition.
If you aren't quite sure when to change your transmission fluid, feel free to consult this guide. From there, our team of highly-qualified technicians will be happy to inspect your vehicle and replace the transmission fluid for you. All you have to do is stop by our service facility, give us a call, or schedule your appointment today!