Tire Shop Albuquerque NM

Influencing handling, efficiency, and safety, your vehicle's tires stand on the frontlines of its performance. With timely care at routine intervals—from tire rotations to new tire replacements—you can ensure that your tires provide the best ride for your car.
Schedule Service Appointment Today!
If you're in the market for new tires in Albuquerque, Rio Rancho, or South Valley, NM, our Jaguar Albuquerque tire shop has you covered! Check out this page to learn more about how we can help you when it comes to all things tires.
Difference Between Tire Balance and Alignment
Do I Need New Tires?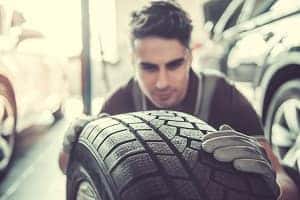 As with many maintenance items in the automotive world, not every driver will need new tires at the same time—your interval for getting your tires replaced will be unique to your vehicle and driving style.
In general, an expert technician should be keeping an eye on your tires and inspecting them at least once a year. After five years, be sure to bring your vehicle in for tire service with every oil change and heed your technician's recommendation on your tires' condition.
There are ways owners can know it's almost time for new tires. Try:
Conducting a visual inspection, checking for punctures, uneven tread wear, and tread depth. Insert the top of a penny face-up into the tread. Any tire that doesn't cover Lincoln's head is nearing the end of its lifespan.
Paying attention to your daily drives. Do you notice a difference in your vehicle's handling overall? Any vibrations or extra bumps in the road?
Monitoring tire pressure. If there's one or more tires you have to frequently fill up, they could be slowly losing air.
Take Care of Your Tires
Whether you're due for a new tire set or just need quality care for your existing tires, our service and parts center at Jaguar Albuquerque has a dedicated team ready to help you out!
You can order parts online. If you're in Albuquerque, Rio Rancho, and South Valley, you can also head over to our parts center in Albuquerque to find tires recommended for your Jaguar F-PACE, F-TYPE, or XF. After our professional team has installed your new tires and you've cruised off our lot, keep us in mind for future tire upkeep.
Getting the most out of your new tires' lifespan is all about making sure they're routinely examined by a professional. By getting your tires rotated alongside every oil change, your tires will be relocated to a new wheel position on your vehicle to help them wear evenly. Schedule tire service today