Where to Celebrate Love near Albuquerque NM
Every February 14th, many couples declare their love for one another with cards, chocolates, or flowers. Then, a great way to end the day is with a dinner that'll set the overall mood.
While there are many restaurants in the area that you could visit, we think the following are some of the best. Keep reading to discover our top picks for romantic restaurants for Valentine's Day near Albuquerque, NM!
P'tit Louis Bistro: Where You'll Feel Like You're in Paris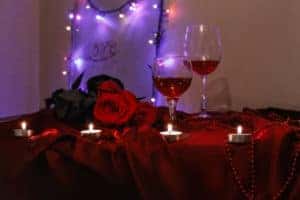 Although P'tit Louis Bistro is located in Albuquerque, dining here will make you feel like you're in France in the 1920s. Still, what's great is that you don't need a passport to visit!
The restaurant is known for cooking French classics without changing or modernizing them. The result is a menu full of standard favorites that are quite delicious.
For an appetizer, you'll want to share the Plateau Dégustation that consists of crab cake, cheese, charcuterie, olives, and fruit. Then, choose from a variety of entrees, such as the Magret de Canard. This oven-roasted duck breast comes with au gratin potato, green beans, and a bing cherry sauce. Don't forget the glass of red, wine, or champagne to cap off your romantic meal.
Learn more on the P'tit Louis Bistro Facebook page.
Seasons Rotisserie & Grill: Offering an Enchanting Dining Experience
If you like a little music with your food, then you'll want to visit Seasons Rotisserie & Grill on Valentine's Day.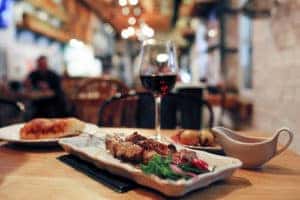 Every so often, you'll get to enjoy live music either inside the dining room or outside on the back patio. With the winning combination of talented musicians and fine dining, you'll be sure to have a memorable experience with your loved one.
When it comes to the food, you'll get to enjoy simple American cuisine with fresh ingredients. While there are tons of tasty dishes to choose from, we recommend the Seasons' Signature Rotisserie Half Chicken. It comes with roasted garlic mashed potatoes and charred broccoli in an herb jus, and it's simply divine.
You can get more information on the Seasons Rotisserie & Grill Facebook page.
Vintage 423: For Homemade Food & Signature Cocktails
At Vintage 423, you'll find food made from scratch that utilizes flavors that are:
Simple
Pure
Local
Regional
Not only that, but they've also curated a Wine Spectator-honored wine list. With so many options to choose from, you should have no problem finding a glass of wine that pairs perfectly with your dish.
Whether you opt for the Seared Sea Scallops, Eggplant Napoletana, or 9-ounce Tenderloin, you're sure to enjoy every bite. Add on the cool atmosphere that the restaurant has, and your Valentine's Day dinner will be one to remember.
Check out more menu options on the Vintage 423 Facebook page.
Reserve Your Spot for Dinner This Valentine's Day
Valentine's Day will be here before you know it, so you'll want to make a reservation as soon as possible. Don't w