Vinaigrette: Raising the Salad Bar in Albuquerque NM


If you're trying to eat a little bit healthier, a salad is always a great option. While you could make one at home, why not enjoy one in a funky and casual atmosphere?
Erin Wade, owner of Vinaigrette, wants locals and visitors of Albuquerque to get quality farm-to-table food that's good for both you and the environment. In this local spotlight, we're showcasing this New Mexico hotspot and explaining why people continue to flock to it time and again!
A Little Bit About Vinaigrette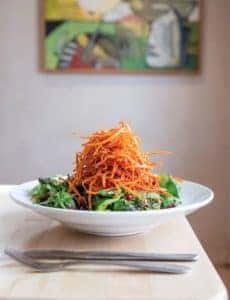 Vinaigrette is a salad bistro that serves tasty entrée-sized salads to residents and visitors of the Albuquerque area. Every dish that's served here gives you the best of both worlds: comfort food that's nutritious and that helps you thrive.
You can either stop by for a bite to eat or let them host or cater your next big event. They have a private venue that holds about 30 people, which is great for a birthday or other type of party. They also plan events and can help customize yours with their full-service planning, setup, and serving offerings!
Where the Fresh Food Is Grown
When you dine at Vinaigrette, you can feel good about what's going into your body. After all, a majority of the organic produce served here is grown on Wade's 10-acre farm.
Los Portales is the name of the farm, and it's located in Nambé, NM, about 20 minutes from Santa Fe. After renovating the 300-year-old adobe farmhouse, Erin cleared the land, nourished the soil, and learned the art of farming.
She and her family then installed a 1,200-square-foot greenhouse to grow micro-greens, herbs, and tomatoes. These crops, along with "vibrant-yolked eggs" laid by chickens on the property, are brought daily to the restaurant for customers' enjoyment.
What's Available to Eat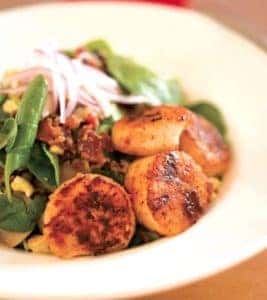 There are tons of delicious soups, hearty sandwiches, and house-made desserts to try at this restaurant.
However, the menu mainly focuses on salads, offering plenty to choose from. For something sweet, get the Apple-Cheddar Chop. Grilled pork tenderloin is served over baby arugula with julienned green apples, pickled fennel, and sharp cheddar, all tossed in a ruby port vinaigrette.
If you'd rather go for something more savory, we recommend the All Kale Caesar! Shredded super-food kale is tossed in a zingy, zesty lemon-anchovy vinaigrette and topped with fresh parmesan, chopped Marcona almonds, and anchovies.
Stop by for a Fresh & Tasty Salad Today
Whether you're craving a salad for lunch or dinner, Vinaigrette is the place to go for one of the best salads in Albuquerque. Check out Vinaigrette on Facebook for more information, then stop by their establishment today!