Brixens: For Top-Quality Food & Libations
Downtown Albuquerque is full of great shops and restaurants, but there's something special about Brixens. It could be the fun atmosphere they provide, through their happy hours and other special events. It may be the tasty food and drinks they serve, backed by friendly staff members.
We like to think it's all of the above, making for a great hot spot with friends or a date any day of the week. In this local spotlight, we're taking a look at Brixens and why's it's a popular hangout for locals and visitors and alike. Keep reading to learn all about it, then stop by for dinner or drinks tonight!
About This Albuquerque Restaurant
Brixens is a bar/restaurant located inside the historic Yrisarri building that was built in 1909. Inside the 5,000-square-foot facility, you'll find a fully renovated interior that provides an ideal setting for a fun day out.
The atmosphere is fun and inviting, while the décor is vibrant and unique. This includes the custom hand-built tables that feature ice coolers built right into the center.
Feel free to stop by for live music, karaoke, trivia, or sports games. Otherwise, you're welcome to just enjoy a good meal while admiring the hustle and bustle of the downtown area.
Drinks to Wet Your Whistle
If you just want to grab a drink with friends, this is a great place to do so. Here, you'll have nearly 100 bottles of beer to choose from. So, whether you want to try something new or go for an old favorite, chances are they have just what you're looking for.
Along with beer, they have 30 different types of wine, with a menu that spans all around the globe. From crisp and dry to light and fruity, they have wines to satisfy every palate.
Furthermore, you could always go for a glass one of their cocktails. They serve both classics and special hand-crafted custom drinks. Feel free to explore their list and have a taste of their extensive collection of premium spirits.
Food to Feed Your Soul
On the other hand, you might be quite famished. In that case, you'll want to take advantage of their extensive menu.
They draw on flavors from New Mexico to create their dishes while also incorporating regional cuisines from across the United States. Using quality ingredients to craft food from scratch, you can taste the love that goes into each and every menu item.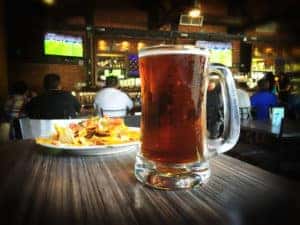 If you're looking to split an appetizer, we recommend the Chips & Dips Trio. You get made-to-order corn chips with your choice of three fresh-made dips:
Beer Infused Green Chile Queso
Roasted Tomato Salsa
Pico de Gallo
Guacamole
Corn & Black Bean Salsa
Plus, with entrée options like Chicken & Enchiladas and desserts like Hot Whiskey Brownie Sundae, you're sure to have a delicious meal at every visit.
Visit This Modern American Bar & Restaurant Today
With satisfying food, thirst-quenching drinks, and exciting atmosphere, Brixens is the place to be any time of the year.
To join in on the fun, stop by this Downtown Albuquerque bar/restaurant today!