Jaguar XE vs Audi S4
If you're looking for your next luxury sedan, look no further than the Jaguar XE or the Audi S4. These two classic rides are great options when it comes to finding all the best sedan features in one place, including lavish interiors, top-of-the-line technology, performance, and so much more.
Still, how can drivers in Albuquerque, Rio Rancho, and South Valley know which of these two is the right choice for their individual driving needs? Keep reading this vehicle comparison, put together by our team at Jaguar Albuquerque, so you'll have all the information you need right here in one place. By doing so, you can make an educated decision and get behind the wheel of a vehicle you're sure to love.
Let's get started by looking at the inside of the Jaguar XE and Audi S4.
Luxury on The Inside: The Interior of The XE & S4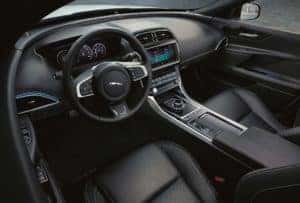 When you're looking at the inside of the Jaguar XE and the Audi S4, you'll be surrounded by luxury. This includes high-quality, soft-touch materials as well as the XE's available heated front and rear seats! Both cabins boast quiet rides, as well, even on the highway.
With plenty of passenger space in both vehicles, you can utilize these rides as either family vehicles or your daily commuter car. Whether you need to take the kids to their next soccer game or are driving the gang to your next group outing, your passengers will find maximum comfort in these rides.
More room for passengers means you'll need some extra room for cargo. Most notably, the Jaguar XE has an immense 16.1 cubic feet of trunk space, so you can load up the extra luggage bags or throw in that extra bag of shoes on your next shopping spree. In the Audi S4, you'll only have 13 cubic feet of cargo volume, meaning you must make some serious decisions before loading up the back with 3+ less cubic feet than the XE.
Technology in the XE & S4
Deciding on a luxury vehicle means you should expect the latest in safety and entertainment technology. Both come with infotainment systems that will keep you connected at all times with Apple CarPlay™ and Android Auto™ technologies. These apps allow you to access phone calls and text messages as well as your favorite music and apps right on your dashboard touchscreen. However, the Jaguar comes with an available 10-inch screen, while the Audi's screen only reaches 8.3 inches.
The XE and the S4 both come with Bluetooth® accessibility, as well. The XE additionally offers a mobile 4G W-Fi hotspot, so no matter which way you choose, you can access your apps and music in more ways than one. Utilizing the hotspot, however, is a great chance to save some of your phone's data. Unfortunately, there's no available hotspot capability in the S4.
Safety in the Jaguar XE & Audi S4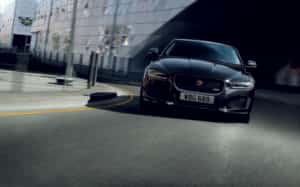 In terms of safety features, the XE takes the lead here, as well. With a whopping 11 driver-assistive features compared to the S4's six safety features, you'll have more confidence while hitting the road with the Jaguar.
With the Jaguar XE, you'll have the following available safety features:
Blind Spot Monitor and Reverse Traffic Detection
Lane Departure Warning
Advanced Park Assist
360o Surround Camera
Lane Keep Assist and Driver Condition Monitor
Due to all these state-of-the-art safety systems, the XE serves as your optimal personal driving assistant. While the Audi S4 does include some of the same features, a lot of them are only found on the XE.
XE vs S4 – Engine Power & Performance
When it comes to the ultimate options in power, we have to give this category to the Jaguar XE, as well. With three available engines, you can choose the one that best suits your needs, which includes the supercharged V6. With 380 horsepower and 332 lb-ft of torque, this engine powers from 0 to 60 MPH in just 4.8 seconds and reaches a top track speed of 120 MPH.
On the other hand, the Audi S4 only offers one engine: the 3.0 TFSI®. This generates less power, coming in at 349 horsepower.
Fuel Economy in the Jaguar XE & Audi S4
When it comes to filling up the tank, fewer trips to the station are always better, saving you time and money all around. The XE is prominent in terms of fuel economy, as well, beating out the popular S4 in fuel economy in yet another category.
With an EPA-estimated 32 city/42 highway MPG with the turbodiesel engine option in the XE, the worry of finding a place nearby for gas is a thing of the past.1
Although the Audi S4 has an impressive EPA-estimated fuel efficiency of 21 city/30 highway MPG, it still comes in quite less than that of the XE. Additionally, the Jaguar fuel tank is also larger at 16.6 gallons than the Audi's 15.3-gallon tank.
Jaguar XE vs Audi S4: The Results
Although we've seen how both the Jaguar XE and Audi S4 are great choices when looking for your next luxury sedan, our pick for a test drive goes to the XE, with its optimum engine choices and state-of-the-art technology features. So, if you're looking for a better performance, elevated efficiency, and more safety features, it's time to try out the Jaguar XE today!
If you're in the areas of Albuquerque, Rio Rancho, or South Valley, contact us at Jaguar Albuquerque to see how you can test drive the Jaguar XE! Our team members will be thrilled to teach you more about this sedan as well as show you what it can do on the roads. See you at the lot soon!
1 All figures are EPA estimates. Actual mileage may vary.