Jaguar Maintenance Schedule

Jaguar is known for having stylish, feature-rich and dependable vehicles. When you have a luxury automobile, you want to enjoy trips around Albuquerque, Rio Rancho and South Valley for a long time. In order to do this is, it is important to keep up with routine maintenance.
Below, we'll go over the types of services you can expect for your Jaguar at various points in its life. Read through this Jaguar maintenance schedule and contact our service center at Jaguar Albuquerque if you have any questions.
Jaguar F-PACE Maintenance Schedule
Jaguar F-TYPE Maintenance Schedule
Jaguar XE Maintenance Schedule
10,000 Miles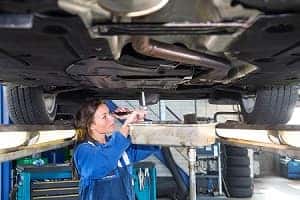 When the odometer in your Jaguar hits 10,000 miles, it is time to get the first maintenance check completed.
At this point, you'll get an oil and filter change, tire rotation and safety inspection. During your oil change, the technician will visually inspect the brakes, belts and hoses. He or she will also look for any leaks, listen for any strange noises and look for any irregularities in the vehicle's operation.
30,000 Miles
At the 30,000-mile mark, the same tasks mentioned above will be completed. Plus, some of the fluids will get replaced, such as:
Brake fluid
Engine coolant
Transmission fluid
The spark plugs, air filter and fuel filter may also be replaced at this time.
60,000 Miles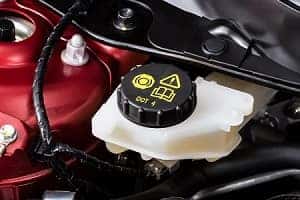 After 60,000 miles, the automatic transmission fluid and filter, plus differential fluid, may need replacing. This is in addition to the work that was mentioned previously.
If the spark plugs weren't replaced before, they'll need to be at this point. The timing belt will get replaced, as well as a valve adjustment. Other services that may need to be done at this time include:
Tire replacement
Drive belt replacement
100,000 and 120,000 Miles
The services will continue this way until you hit the 100,000-mile mark. At this point, you might start to see some wear and tear in the belts and hoses. You may also see some wear in the motor mounts and suspension bushings. Oil leaks could occur at this time, too. The technician will check all of these when you bring it to our service center.
If your vehicle is still running well after 120,000 miles, then you've done a great job keeping up with regular maintenance. During this check, the only additional items that may need to be done are:
Shock absorber/strut replacement
Engine coolant hose replacement
Engine mount replacement
Steering and/or suspension component replacement
Jaguar Service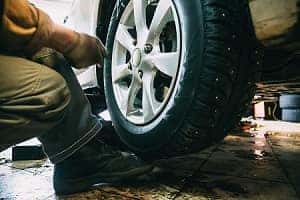 When your car's odometer hits a certain number of miles, it's time to bring it in to our state-of-the-art Jaguar service center.
Here, you'll find a team of highly trained and certified technicians. They have years of experience working on all types of Jaguar models. As a result, they can accurately fix any issue your vehicle may have.
Plus, they'll only use genuine parts for each job. These are the same ones found on the assembly line when the car was first built. This way, there won't be any issues of quality or fit. Our team will also work quickly and efficiently, to get you back on the road as soon as possible.
Schedule Maintenance for Your Jaguar
Keeping up with your Jaguar maintenance schedule is crucial for your car's longevity and dependability around Albuquerque, Rio Rancho and South Valley. At Jaguar Albuquerque, we're happy to help you with any of your service needs. Contact us today to schedule a service appointment.