Jaguar I-PACE Range

With so much to see and do in Albuquerque, Rio Rancho, and South Valley, there's a good chance you'll be doing a lot of driving each week. Having an electric automobile can certainly help you out, as it lets you stay on the road for hours at a time before running out of steam.
One such vehicle to consider is the 2019 Jaguar I-PACE, with its impressive range. We'll tell you what that is below and how it compares to similar luxury models.
Read through our informative guide, and feel free to contact our team at Jaguar Albuquerque if you have any questions.
What Is the Jaguar I-PACE Range?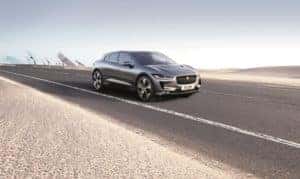 The 2019 Jaguar I-PACE has a range of up to 234 miles on a single full charge. To give you an idea of what that means, one charge is more than enough for the average weekly commute of 150 miles. So, if you wanted to take trips to the Petroglyph National Monument and ABQ BioPark Zoo, you could do so before charging the vehicle up again.
When you do need to recharge, there are several convenient ways to do so. If you're out on the road, you can visit one of the many public charging ports available. Plus, many of them accept up to a 100kW DC rapid charge, which means you can get an 80% charge in less than an hour.
On the other hand, you may prefer to charge the I-PACE from home. If so, you could always install an approved Jaguar home charger. The vehicle is equipped with a 7kW single-phase AC on-board charger, which can fully recharge the vehicle overnight when using the home charger.
Comparison to Other Electric Models
Let's take a look at two other electric models: the BMW i3 and Audi e-tron.
The 2019 BMW i3 can be fully charged in less than six hours. However, its range on a single charge is just 153 miles. You could get a Range Extender to up the mileage. Unfortunately, though, that only gives you up to 200 miles total.
Then there's the 2019 Audi e-tron. With this model, you can get a single full charge in about nine hours. However, it doesn't provide any more than 204 miles on a full charge.
What Else Does the I-PACE Have to Offer?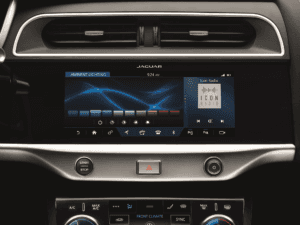 As you can see, the Jaguar I-PACE offers an impressive range. However, it offers so much more than that with its performance.
In fact, the vehicle offers many features that allow it to handle exceptionally well, such as the Torque Vectoring by Braking technology. This system will manage independent braking to the inside of each of the front and rear wheels. As a result, you'll have better control when going around corners.
Then there's Adaptive Dynamics, which gives you a nice mix of handling and comfort on the road. This feature monitors vehicle movements up to 500 times a second. To be more specific, it looks into acceleration, steering, and brake pedal activities. Then, the electronically controlled dampers adjust for optimum settings on the suspension. Overall, you'll have a refined and agile ride that you can enjoy for hours on end with that long-range rating.
See How Far the 2019 Jaguar I-PACE Can Take You
Now that you know what kind of range the 2019 Jaguar I-PACE offers, it's time to see how the vehicle can handle itself on the road.
If you're looking to experience this luxury electric SUV near Albuquerque, Rio Rancho, or South Valley, don't wait. Schedule a test drive at Jaguar Albuquerque today!