2020 Jaguar F-TYPE Specs

There's little doubt about it: The 2020 Jaguar F-TYPE is born and bred as a sports car. With its outstanding performance, bold exterior, and refined interior, the F-TYPE has plenty to offer drivers in Albuquerque, Rio Rancho, and South Valley.
This comprehensive vehicle specs review, discussing engine power, exterior dimensions, and interior space, will help you discover everything the sporty Jaguar F-TYPE has to offer.
2020 Jaguar F-TYPE Performance Specs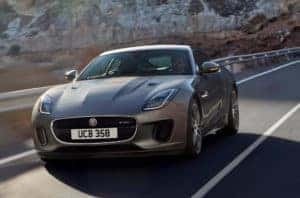 With energetic engines and nimble handling, the 2020 Jaguar F-TYPE is built to take on any road—even the curviest ones—without issue.
The vehicle comes standard with a 296-horsepower 2.0L turbocharged 4-cylinder engine. It provides plenty of power for city driving, but it's also strong enough to handle highway driving.
You can then upgrade to more powerful engines; the F-TYPE is a sports car, after all. The available 3.0L V6 engine produces up to 380 horsepower and is mated to an 8-speed automatic transmission. On the highest trim, the 5.0L V8 provides an earthshaking 575 horsepower.
Not only is the vehicle quite powerful, though, it's highly fuel-efficient too. With the base engine, the F-TYPE achieves an EPA-estimated 23 city/30 highway MPG. Then, the 3.0L V6 provides an EPA-estimated 20 city/28 highway MPG, offering a solid balance between fuel economy and power.
2020 F-TYPE Exterior Specs & Design
As you enjoy the 2020 F-TYPE performance, passersby are sure to enjoy staring at your automobile. Which comes as no surprise, considering how impressive the exterior looks.
It's nicely sized, with the following exterior dimensions:
Length: 176.5 inches
Width: 80.4 inches
Height: 51.6 inches
Wheelbase: 103.2 inches
Plus, with flowing body lines and pronounced wheel arches, there's no doubt that you're looking at a high-performance sports vehicle.
You can also customize the car to look the way you want. For instance, there are three roofs to choose from. The aluminum roof provides a pure Coupe look. The fixed panoramic roof adds some fresh air and sunshine to your cruises around town. Finally, the carbon fiber roof has carbon fiber weaves that are seen through a high-grade lacquered finish—giving you a strong yet lightweight roof.
Interior Specs for the Jaguar F-TYPE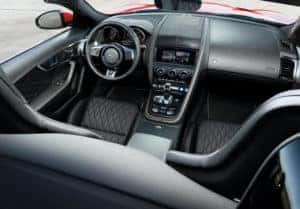 The Jaguar F-TYPE fits two people nicely, with leather/suedecloth seats created with "sports car" in mind. In fact, the lighter construction of the seats lets you experience the real power of this automobile.
In terms of cargo space, the 2020 Jaguar F-TYPE provides 10.9 cubic feet in the coupe model and 14.4 cubic feet if the cargo space cover is removed. Then the convertible provides 7.3 cubic feet of trunk space—enough for a few shopping bags or a couple suitcases for a weekend getaway.
A powered tailgate is available, as well, making it easier than ever to load and unload the F-TYPE. You can quickly open the trunk with the touch of a button, place all the items inside the vehicle, and then be on your way!
Test Drive a 2020 Jaguar F-TYPE
Now that you've had the chance to brush up on some of the most important specifications and features inside the 2020 Jaguar F-TYPE, why not see this impressive car for yourself?
At Jaguar Albuquerque, our sales team is standing by and ready to show you around the roads of Albuquerque, Rio Rancho, and South Valley with a test drive. Have any questions about this powerful sports car? Contact us, and we'll be happy to answer them.