Jaguar F-TYPE Interior Review

When it comes to the Jaguar F-TYPE interior, it's so connected and comfortable that you and your car will feel like one. After getting to know the F-TYPE cabin a bit better, we can understand why that is.
The bottom line is that inside this automobile is one of the most sumptuous examples of automotive design on the market today. Best of all, it's available to drivers right now at Jaguar Albuquerque.
If you live in Albuquerque, Rio Rancho, or South Valley, keep reading through our Jaguar F-TYPE interior review to discover everything this vehicle has to offer. Then, contact us when you want to take this luxury sports car on a test drive.
Jaguar F-TYPE Interior: Comfortable Dimensions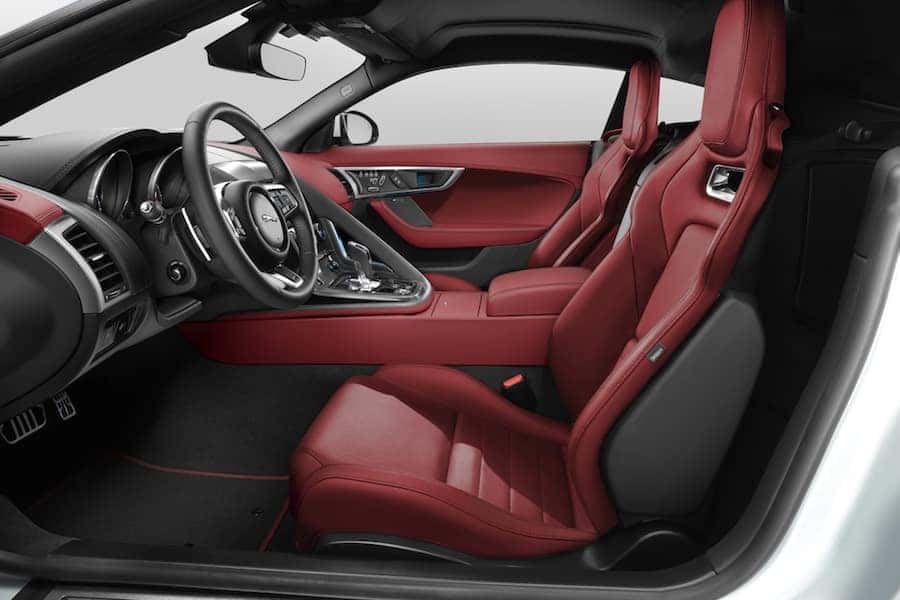 One of the best aspects of the Jaguar F-TYPE is its roominess. In fact, it's more spacious than most of the other coupes or convertibles that you'll find on the market.
In terms of space, the F-TYPE offers:
37 inches of front headroom
42.8 inches of front legroom
56.5 inches of front shoulder room
So, stretch out and drive!
Still, don't forget to bring your luggage along for the trip. The interior features 7.3 cubic feet of trunk space in the convertible and 14.4 cubic feet in the coupe. With dimensions like these, the Jaguar F-TYPE can accommodate just about any lifestyle.
Stylish Design Inside the F-TYPE
After its spaciousness, one of the first things that you'll notice about the Jaguar F-TYPE style is how its center console is laid out with the driver in mind.
All the buttons, knobs, and levers are easy to reach and easy to find. Plus, between the increased visibility, minimal distractions, and close-to-the-center-of-gravity seating, you'll feel completely connected to the vehicle throughout any commute.
Then, you've got the seats. Both the New Sport and Performance seats are designed with the driver in mind. From optimal lateral support to an available cooling function, these seats are an ideal mix of comfort and luxury.
Of course, we can't forget the Configurable Lighting feature. Regardless of which mood you're trying to set, you can do it. Choose among cascades of Phosphor Blue, White, Pale Blue, Coral, or Red. Plus, when you engage Active Dynamic Mode, the whole cabin bathes in red.
State-of-the-Art F-TYPE Technology
Then there's the luxury vehicle's interior technology. Here, you'll find lots of features that'll help keep you connected, entertained, and safe during your travels around town.
The F-TYPE comes standard with a Jaguar InControl® Touch Pro infotainment system. You can listen to a variety of music through HD Radio™ or SiriusXM® Satellite Radio. Plus, you can connect your smartphone to the vehicle to gain access to InControl® Apps™.
Various apps are available to help enhance your in-car experience. You can download Spotify to access over 30 million songs, Tile to help find misplaced items, and more. And everything will be seen on an 8-inch touchscreen and heard clearly through a 12-speaker or 14-speaker Meridian™ Sound System.
Another standard tech feature is the InControl® Remote. It allows you to lock and unlock your doors, start the car, and more, through your smartphone or Android Wear™/Apple Watch®. With this kind of convenience, you can get inside the F-TYPE and head to your destination faster than ever.
Advanced Driver-Assisting Technologies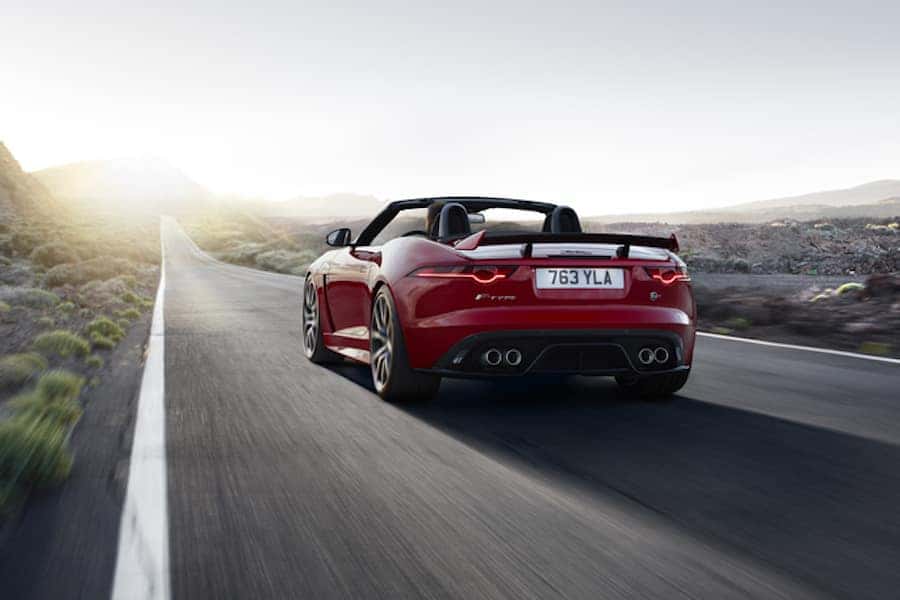 As we mentioned before, the technologies found in the Jaguar can do more than just keep you amused. They also help keep you more aware of your surroundings, to prevent an accident from occurring.
This is done through the various driver-assisting technologies found in this Jaguar model. For instance, Lane Keep Assist comes standard. This will warn you when you start to drift from your lane without using a turn signal. Then, if needed, it'll use gentle corrective steering to get you back to the center of your original lane.
Another standard feature is Traffic Sign Recognition with Adaptive Speed Limiter. This system will recognize speed limit signs and display them on the instrument cluster. And if Adaptive Speed Limiter is activated, it'll adjust the vehicle's speed based on the current limit.
Between these features and available ones like Park Assist and Blind Spot Monitoring, you'll have great peace of mind driving inside the Jaguar F-TYPE.
Test Drive the Jaguar F-TYPE Today
From the stylish design to the long list of features, the F-TYPE is an impressive vehicle that may just be your ideal fit. But, to know for sure, you'll need to get behind the wheel and experience it for yourself.
Here at Jaguar Albuquerque, we'd like to extend a cordial invitation to our friends in South Valley, Rio Rancho, Albuquerque, and nearby New Mexico communities to test drive the Jaguar F-TYPE today.
Come feel the vehicle's interior in person and allow us to answer even your most specific questions. We look forward to meeting you and helping you find your dream car!
More From Jaguar Albuquerque
To give you tons of in-depth information about the SUV, our team at Jaguar Albuquerque has compiled this selection of articles about the Jaguar F-PACE. On this page, you'll find everything you need to know about all aspects of the vehicle, so you can decide if it would be a good fit for your drives around Albuquerque, Rio Rancho, and South Valley. Simply locate the article in which you are interested, and click through to read all about the SUV.

As if Jaguar models couldn't get any more innovative, let us introduce the 2018 Jaguar E-PACE, Jaguar's first compact SUV. New for 2018, the E-PACE redefines what it's like to drive a luxury compact SUV. Our team at Jaguar Albuquerque put together this review of the 2018 Jaguar E-PACE, so that drivers in Albuquerque, Rio Rancho, and South Valley can understand what sets the 2018 E-PACE apart from the rest.

Jaguar vehicles are designed with customer happiness in mind and nothing makes our customers at Jaguar Albuquerque happier than taking home a vehicle that they can count on. Read ahead to learn more about what makes Jaguar stand out when it comes to reliability and contact us today with any questions.