Jaguar F-TYPE Horsepower

When it comes to performance, the F-TYPE gives you not only powerful engines, but also precise handling and optimum traction.
Part of the vehicle's impressive operation stems from its horsepower ratings. Below, we'll tell you exactly what the Jaguar F-TYPE horsepower is. Plus, we'll go over the vehicle's other performance specs.
Read through our informative guide, then contact our team at Jaguar Albuquerque to test drive this sports car near Albuquerque, Rio Rancho, or South Valley.
How Powerful Is the Jaguar F-TYPE?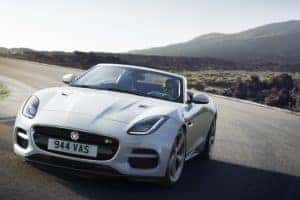 There are several engine options available for the Jaguar F-TYPE, giving you different horsepower and torque ratings:
2.0L 4-cylinder: 296 horsepower and 295 lb-ft of torque
3.0L V6: 340 horsepower and 332 lb-ft of torque
3.0L V6: 380 horsepower and 339 lb-ft of torque
5.0L V8: 550 horsepower and 502 lb-ft of torque
5.0L V8: 575 horsepower and 516 lb-ft of torque
No matter which F-TYPE engine you opt for, you'll be able to zoom down the highway with ease. In fact, with the 575-horsepower V8 engine, the vehicle can go from 0-60 MPH in just 3.5 seconds with a top track speed of 200 MPH.
With those kinds of numbers, you could take this Jaguar model to the race track, if you wanted to.
Other F-TYPE Performance Specs
Not only is the Jaguar F-TYPE extremely fast and powerful, but it's quite fuel-efficient, too. It achieves an EPA-estimated 23 city/30 highway MPG.1 With this rating, you can spend hours cruising around town before needing to stop and refuel.
Furthermore, the F-TYPE is available with All-Wheel Drive (AWD). Under normal conditions, the AWD system sends power to the rear wheels to maintain the agility and handling that the Jaguar model is known for.
When the road starts to get slick, torque can be balanced between the front and rear wheels for optimum traction. In extreme conditions when only the front wheels have traction, 100% of torque can be sent up front to help you stay in control.
Driving Technology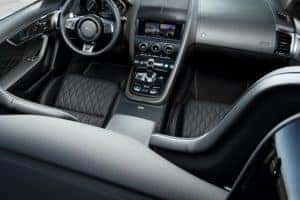 Adding to the F-TYPE power and performance is the model's driving technology. There are many features that are included in this category, such as Adaptive Dynamics.
This system assesses both body motion and pitch rates 100 times a second. Plus, the steering wheel gets measured 500 times a second, helping predict the car's movements. The result is maintaining body control and agility for a dynamic and responsive ride.
There's also the Electric Power Assisted Steering system, which gives great feedback and saves power for where you really need it.
The system offers sophisticated computer management that varies steering assistance as necessary. As a result, you get increased help during low-speed maneuvering and an improved feel at higher speeds.
Test Drive the Jaguar F-TYPE
Between the horsepower ratings and general performance specs, you can see that the Jaguar F-TYPE is an impressive luxury sports car.
If you want to see this vehicle in action near Albuquerque, Rio Rancho, or South Valley, don't wait. Schedule a test drive at Jaguar Albuquerque today!
1 All figures are EPA estimates. Actual mileage may vary.