2020 Jaguar F-TYPE Dimensions

The 2020 Jaguar F-TYPE is a sleek, sporty ride offering agile performance and the power of a true sports car. There's so much to explore when it comes to this standout vehicle. In this article, we'll be discussing the important dimensions of the car you should know about.
Understanding the measurements allows you to get a feel for the space inside the vehicle and what it looks like on the outside to other drivers.
Keep reading to get the exact 2020 Jaguar F-TYPE dimensions. Then, contact our team at Jaguar Albuquerque to see this vehicle in person near Albuquerque, Rio Rancho, or South Valley.
2020 Jaguar F-TYPE Exterior Dimensions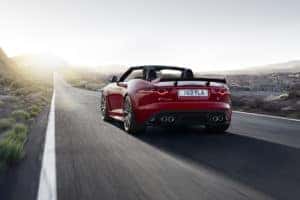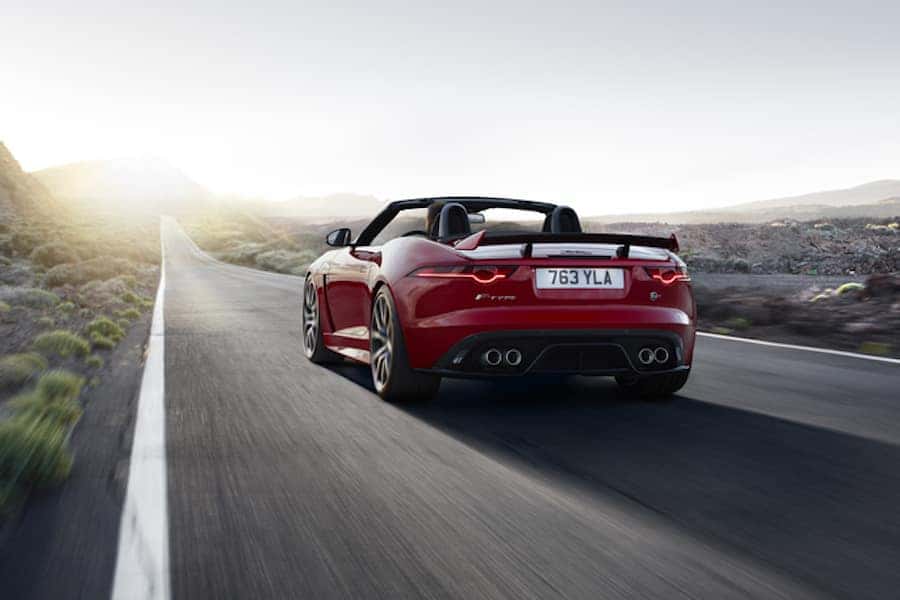 At an overall length of 176.5 inches, the 2020 F-TYPE hugs corners and handles winding roads without issue. The overall width of the vehicle, including mirrors, is 80.4 inches, helping you to navigate in and out of parking spaces and tight spots.
The overall height of the vehicle, meanwhile, is 51.6 inches with a ground clearance of 3.9 inches. These numbers make the F-TYPE truly feel like a sleek, low-to-the-ground sports car.
Then, with its 103.2-inch wheelbase, the F-TYPE offers outstanding maneuverability, too. The vehicle is also available with alloy wheels that measure between 18 and 20 inches, allowing you to choose the style and size that looks right to you.
2020 F-TYPE Passenger Room
We'll now discuss the Jaguar F-TYPE interior dimensions, so you know exactly what to expect when stepping inside the cabin. After all, these dimensions determine how much space the driver and passenger have to stretch out their legs and move around.
The F-TYPE offers seating for two, with 42.8 inches of legroom up front. This is enough space to stretch out for longer drives; however, the F-TYPE still can make you feel like you're inside a high-performing sports car. After all, you are. Front headroom checks in at 36.8 inches, and with 56.5 inches of front shoulder room, there's plenty of space even for those with broader shoulders.
Plus, the seats themselves provide tons of comfort options. With their streamlined form, they save space and allow for a wide range of seating positions. More specifically, you have 12-way electric front seats to find that sweet spot behind the wheel in no time. Then, with the available heating and cooling features, you can easily adjust to the ever-changing temperatures outside.
Jaguar F-TYPE Cargo Space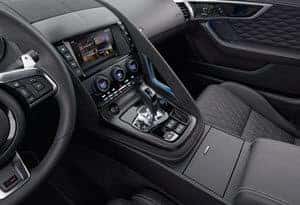 The 2020 F-TYPE is unique, as it offers coupe and convertible setups. The coupe offers 14.4 cubic feet of cargo space—enough room for carrying multiple bags from the Historic Old Town shops.
If the cargo privacy screen is used, there's 10.9 cubic feet of trunk space. If you're not using the space for a shopping trip, there's enough room for overnight bags.
Meanwhile, the convertible version of the Jaguar F-TYPE offers 7.3 cubic feet of cargo space. So, if you want to grab a few goodies from the Rail Yards Market or have a picnic at Los Altos Park, you can easily fit the necessary items into the back of the automobile.
Test Drive the 2020 Jaguar F-TYPE Today
Now that you have all the info on the 2020 Jaguar F-TYPE dimensions, you can visit Jaguar Albuquerque to see this vehicle in person! It's the only way to truly experience the exterior dimensions, passenger room, and cargo space for yourself.
Schedule a test drive with our sales team today. We'll be happy to show you how the Jaguar F-TYPE can handle the roads of Albuquerque, Rio Rancho, and South Valley.