---
Everyone should experience a luxury car at least once in their life. At Jaguar Albuquerque, we're proud to give drivers in Albuquerque, Rio Rancho, and South Valley the opportunity to finance the Jaguar model that they love. However, if you're in love with the Jaguar F-PACE and you don't think it's within your budget, who said anything about buying? We offer great Jaguar F-PACE lease deals for drivers like you who want to experience the style and performance of this alluring luxury crossover.
We're going to provide you with a few details on F-PACE leases so you can learn more about the vehicle and see if you'd like to lease it.
| Benefits | Leasing | Buying |
| --- | --- | --- |
| Ownership | | x |
| Lower Down Payment | x | |
| Lower Monthly Payment | x | |
| No Mileage Limit | | x |
| Vehicle Customization | | x |
| Easier Trade In | x | |
---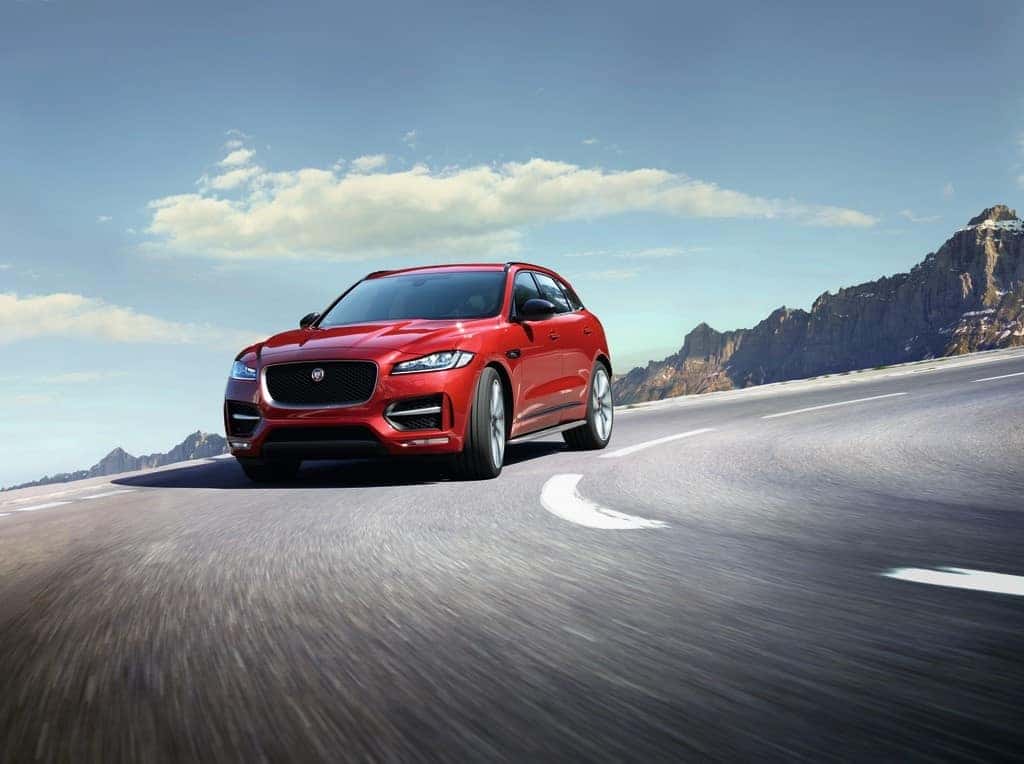 EXPLORING THE F-PACE PERFORMANCE
The Jaguar F-PACE offers a reliable yet ferocious performance with its 2.0L turbocharged 4-cylinder engine. The engine delivers an impressive 247 horsepower and 269 lb-ft of torque, allowing it to get from 0 to 60 MPH in just 6.6 seconds. When the F-PACE is pushed, it can hit 135 MPH on the track.
Of course, more potent engines are available. An upgraded turbo 4-cylinder cranks out 296 horsepower, while a supercharged V6 delivers 380 horsepower. Choose the performance-tuned Jaguar F-PACE SVR, and you'll find a luxury crossover with 550 horsepower on tap! That supercharged V8 is well worth it.
While the performance is enough to inspire any budding race enthusiast, it's important to know that the F-PACE offers superior handling with its All-Wheel Drive system. This system keeps the driver in command and delivers a quick response with evasive maneuvers, showing that agility is one of the key components of this luxury crossover.
---
EXCEPTIONAL STYLE & DESIGN
The Jaguar F-PACE is more than just a fashionable vehicle. It provides one of the most alluring appearances in the realm of luxury crossovers. The smooth hood that transitions into the spacious cabin is merely highlighted by the sporty side door indentations. The front end offers an authoritative and commanding presence, with the expansive honeycomb grille and the iconic emblem resting in the center. The dual exhaust in the rear is a subtle hint to what this vehicle can do on the road.
---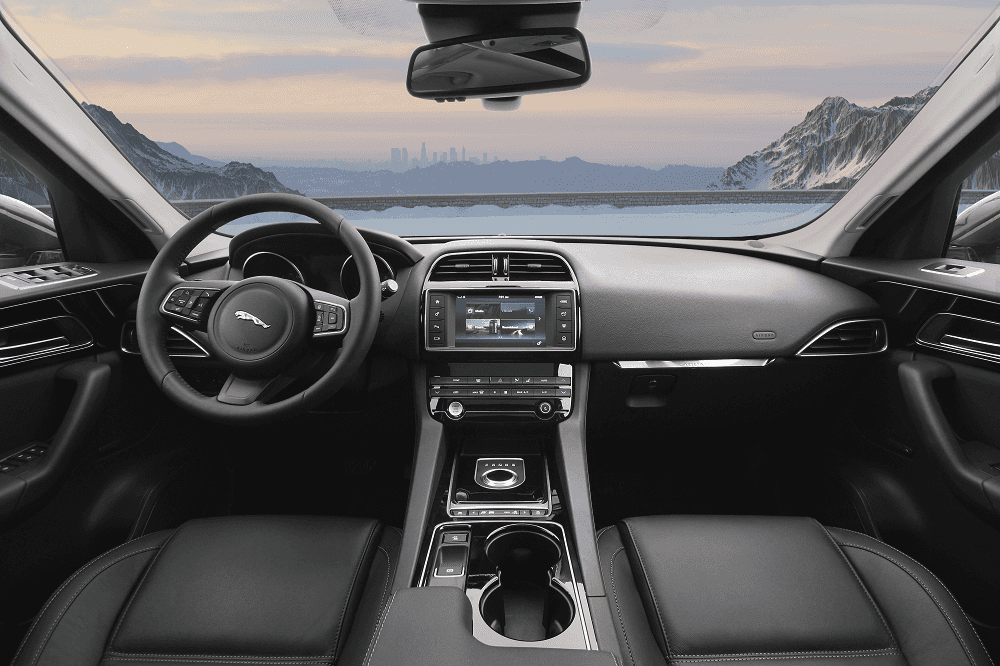 STATE-OF-THE-ART FEATURES & TECHNOLOGY
There are many reasons to lease a Jaguar F-PACE, but the sophisticated technology and entertainment features should rank pretty high on the vehicle's appeal. The F-PACE provides real-time access with its 10-inch touchscreen display that gives you a clear view for when it's time to select the ride's entertainment. The Meridian™ Sound System will provide the soundtrack to your journey with HD Radio™ and USB/auxiliary connections. You can also stream your favorite songs through the Bluetooth® system.
---
LEASING A JAGUAR F-PACE
Want to learn more about our excellent Jaguar lease deals? Swing by our finance center, where our leasing specialists will work with you to find the perfect plan. We have all sorts of Jaguar incentives and specials in store, and we're excited to help you learn more about them.
The chart in the introduction covered some of the different benefits of leasing vs. buying. If you're still not sure which option is best for you, our finance team can help you better understand the differences between these two paths. Choose the one that makes the most sense for your driving needs.
When you're ready to talk about leasing, fill out our credit application to get pre-approved. If you prefer, you can complete it in person at our finance center, too. Once we have this crucial information, we can start working to find a Jaguar F-PACE leasing agreement with terms and monthly payments that work for you!
---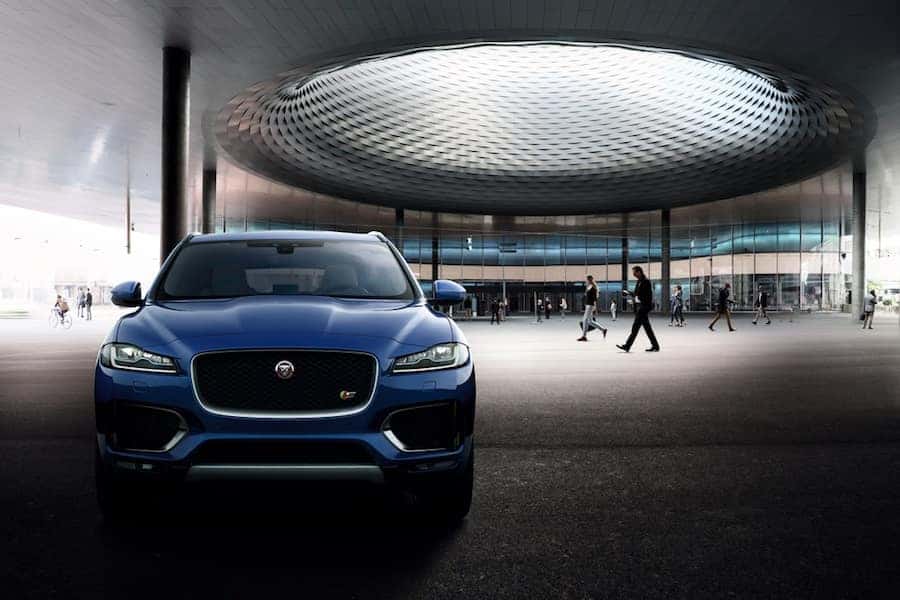 Why Lease A New F-PACE?
There are all sort of benefits of leasing a Jaguar F-PACE—ones unique to the leasing process. When you lease, you don't own the vehicle. You're not responsible for the full MSRP of the vehicle, only the valued depreciation that occurs during your lease period. Therefore, you'll likely see lower monthly payments if you lease.
Lease a new F-PACE, and your vehicle will be covered under the new vehicle warranty. Drive with a little more peace of mind knowing that all warrantable repairs you need will be covered! Count on lower repair costs that are more predictable during your lease period.
If you're not one to commit to a vehicle for a long time, leasing offers the flexibility you need. Most leases run no more than three years, so you can upgrade to a newer vehicle every few years! Experience all the latest in technology, safety, and style features and always stay up to date.
If you decide you can't part with your Jaguar F-PACE at the end of the lease, we have good news: You'll have the option to purchase it at its predetermined residual value. Think of your lease as an extended test drive!
---
Lease Your Jaguar Today
If you're a fan of this car and you're itching to get behind the wheel, you don't have to commit to a purchase in order to experience this luxury crossover on the road. At Jaguar Albuquerque, we offer plenty of F-PACE leasing opportunities that you'll want to consider. You'll get to enjoy the experience of driving this luxury crossover without being tied down to ownership. The monthly payments are lower when you lease, and when your term is up, you'll be able to walk away or purchase the vehicle so you can continue to enjoy its style, features, and performance.
Are you interested in leasing the Jaguar F-PACE? Contact us at Jaguar Albuquerque. We're happy to help drivers in Albuquerque, Rio Rancho, and South Valley make the right choices when choosing a luxury car.
---