Jaguar E-PACE Lease

Have you been searching for a vehicle that perfectly pairs luxury with performance? Have you wondered how you can pay for said vehicle? Then, look no further than a Jaguar E-PACE lease. This one-of-a-kind compact SUV will no doubt change the way you think about driving, making you want to hit the streets of Albuquerque, Rio Rancho, and South Valley so much more.
To get behind the wheel of this vehicle, our team at Jaguar Albuquerque has some fantastic Jaguar E-PACE lease offers just for you! To learn about our leasing process and to find out what you can expect with the E-PACE, keep on reading. Then, feel free to contact us with any questions to get the entire leasing process started!
About the Jaguar E-PACE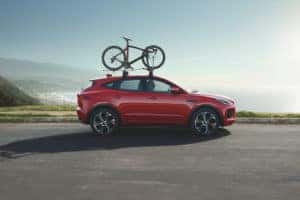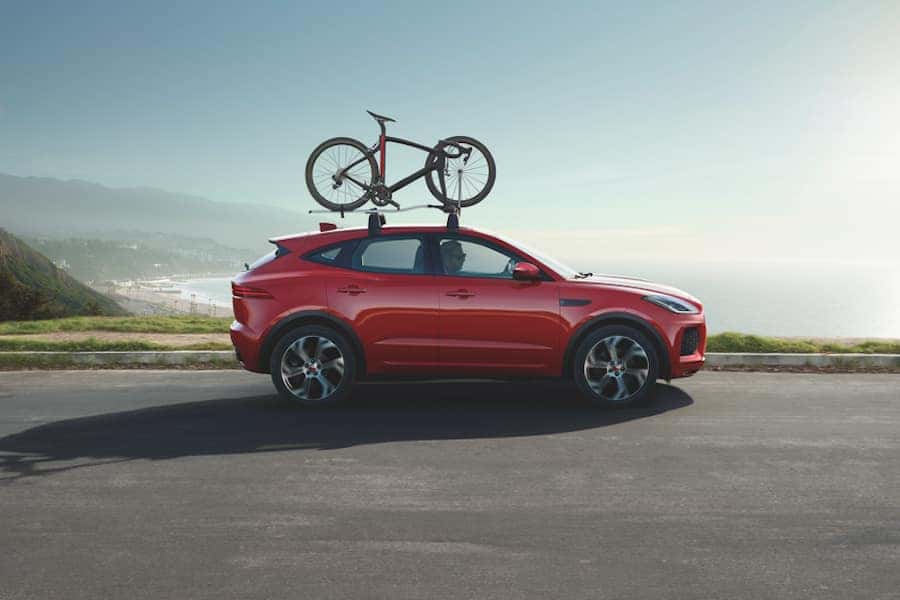 From the outside in, the Jaguar E-PACE exudes progressive luxury that's sure to elevate your drives, no matter where you're headed. On the outside, you'll turn heads with a bold honeycomb mesh grille that's framed by LED headlights with a signature "J" blade.
Plus, the dynamic roofline blends with a spoiler that gives the SUV a distinct profile—almost a coupe-like appearance. Then, with the available 21-inch alloy wheels, you're looking at a luxury vehicle that gives off a highly sporty vibe.
The E-PACE interior, meanwhile, puts you in full control with the advanced cockpit. It features premium materials, such as Windsor Leather and Morzine, that mesh well with the contemporary and comfortable interior design.
Additionally, advanced technologies, such as the Touch Pro® infotainment system with a 10-inch tablet-style dashboard touchscreen, keep you connected and entertained inside this automobile.
Need more convincing? There's only one way to truly experience the awesomeness of this vehicle, and it's to get behind the wheel for yourself.
Test Drive the Jaguar E-PACE
When you schedule a test drive at our Jaguar dealership, we know it'll open your eyes to what the E-PACE has to offer you as a driver. Not only will you be able to see if it complements your unique style, but you can find out a whole lot more just from a few minutes in the driver seat.
This is a perfect time to experience its comfort as well as its performance on both city and highway roads. You'll be able to adjust the seat the way you like it, check out the interior and exterior, and take it for a spin to see if it meets your needs.
Benefits of Leasing the E-PACE
If you decide that this Jaguar model is right for you, then you may wonder about the advantages of leasing vs. buying it.
Leasing is a great way to get a new vehicle every few years. If you especially like being on the cutting-edge of new technologies and safety features, then this option may be the way to go.
Furthermore, because you're getting a brand-new model for a short term, it's often still under warranty. Therefore, you can rest assured that you'll remain covered for certain maintenance or repair work.
Since you'll have a new vehicle for just a couple years, though, it mostly likely won't need any major repairs nor part replacements. As long as you keep up with routine maintenance, such as oil changes and tire rotations, your E-PACE should stay in top-quality condition for the duration of your lease. The benefits of an E-PACE lease are endless.
Jaguar E-PACE Lease Deals
After going over features of the E-PACE and taking it for a spin, it's time to talk to our finance department about lease offers. Our team makes everything easy to understand and we'll walk you through the entire process.
Here, you'll learn about different leasing contracts, which can vary by trim level and mileage package. Plus, we'll go over the perks of leasing a Jaguar, including:
A little-to-no down payment
Excellent warranty coverage
An easy trade-in
Furthermore, our lease deals usually allow you to pay lower monthly payments than if you were to finance the same model. Since you're only paying off the vehicle's depreciation rate rather than its entire cost, leases tend to have lower monthly payments.
Steps to Leasing an E-PACE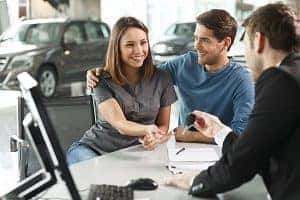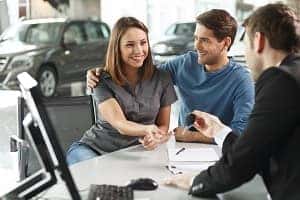 Before stepping foot inside our finance center, you can begin the leasing process by filling out our online credit application. This application gives you a chance to get pre-approved before entering our dealership. Plus, it allows our finance team to be fully prepared when it's time to talk business.
When that time comes, we'll meet with you one on one to go over your lease agreement. If a Jaguar E-PACE lease deal is available, we'll apply that to your plan. We can also help you pick out an appropriate mileage package. Whether you need 10,000 miles or 15,000 miles a year, we'll make sure to get you one that fits your lifestyle.
We'll also go over various vehicle protection plans that are available. These are optional; however, they can keep you covered for various maintenance and repair work that may be needed for your automobile.
When your agreement looks good to go, you'll just need to sign on the dotted line. We'll then happily hand over the keys and have you drive home in a brand-new luxury SUV!
Get a Jaguar E-PACE Lease Today
If you live near Albuquerque, Rio Rancho, or South Valley and are ready to upgrade your vehicle and take your commutes to the next level, we can help.
Contact Jaguar Albuquerque or stop by today for a test drive. Then, when you're ready to lease the Jaguar E-PACE, our team will be here to help you begin your journey.