Jaguar Dealer Albuquerque NM
Albuquerque, NM, is unlike any other city. With amazing scenery, tons of activities, and an awesome history, we're proud to call Albuquerque the home of our Jaguar dealership. Since there's no place like home, we wanted to put the spotlight on this incredible city to show you what Albuquerque is all about.
Continue reading to learn about this impressive area and see how Jaguar Albuquerque fulfills its drivers' automotive needs every day. If you have any questions while reading, don't hesitate to contact us!
About Albuquerque NM
When in Albuquerque, make sure you check out the Petroglyph National Monument which displays thousands of ancient Native American drawings carved on volcanic rocks dating back 400 to 700 years ago. Come back to the present time and stroll over to ABQ BioPark Botanic Garden to engage your inner botanist. Plus, there's the ABQ BioPark Zoo. This 64-acre zoo has been around since 1927, offering guests close encounters with a lot of native and exotic animals alike.
We've only hit the tip of the iceberg (or cactus?) with what goes on in our hometown. However, whatever the residents are up to, the team at our Jaguar dealer near Albuquerque, NM, has the luxury vehicles they love to cruise around in. Read on to find out more about our dealership!
New & Used Jaguar Cars near Albuquerque NM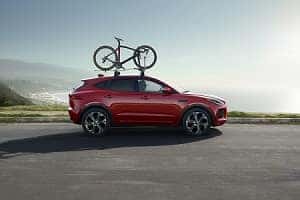 At our Jaguar dealership, we know that Albuquerque residents have specific needs in choosing their next luxury car or SUV. That's why we offer tons of Jaguar models—so that our customers have no problem finding their desired features all in one vehicle.
Check out our entire inventory online where you'll find a Jaguar like the F-PACE for your family vehicle needs, or maybe the F-TYPE if you're looking for a sportier ride around the city. We'll give you all the details on each model so that you can arrive at our showroom fully prepared to shop.
You can also choose to head straight to our dealership where one of our staff members will be happy to help you out should you prefer. They'll walk you around, pointing out our various models and their features. You'll even get to take a car or two on a test drive to ultimately see which one is right for you!
Financing Your Jaguar
When you purchase a Jaguar with our Albuquerque dealership, you'll be set up with an expert finance team who will help guide you to the financing options that work best for your budget. With our longstanding relationships with banks and lenders in the Albuquerque area, we're able to ensure that you're in the best hands when choosing a loan. We'll also be there to answer any questions and explain financial lingo you want to learn more about.
You can start the finance process right at home by filling out our online finance application. That way, we'll have your information processed before you arrive, letting you cruise away in your new Jaguar in no time.
If you're trading in one vehicle for another, you'll want to check out our handy trade-in tool. Just enter in basic information about your current ride and it'll determine how much money you could get to put toward a new Jaguar.
Our Auto Service Center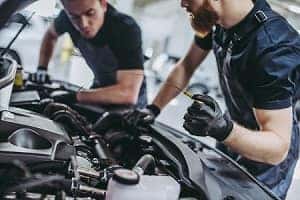 Our Jaguar dealership is committed to making sure your vehicle is always running like new. We do this by having an auto service center on site so that you never have to go far to keep up with maintenance. With a staff of highly trained and experienced auto technicians, we can tackle any issue that might come your way. From oil changes to larger part replacements, we've got you covered.
We also have a large parts center which supplies the same genuine OEM parts that you'll find in our service center. If you want to work on your Jaguar yourself, we'll help find the right part for you. You can even order parts online!
Our parts center has tons of Jaguar accessories as well. These will help enhance the look and feel of your vehicle and come in various categories like:
Styling: mirror covers, side power vents, etc.
Lifestyle: wheels, cargo mats, roof rails, etc.
Business: headrest-mounted coat hanger, premium leather-seat back stowage, etc.
Ordering parts or accessories with us is easy—just let us know which Jaguar you own and the items you need and we'll let you know when everything is ready to be picked up.
The Jaguar EliteCare Advantage
When you buy a Jaguar at our dealership, you'll get to experience the Jaguar EliteCare Advantage which will help when it comes to service. With EliteCare, you get complimentary scheduled maintenance to help keep your vehicle in top-notch condition. Our Jaguar-trained technicians will handle the work and all parts will be replaced with Jaguar-approved parts.
Plus, each Jaguar will come with a best-in-class 5-Year/60,000-Mile New Vehicle Limited Warranty. This way, if your car incurs any major damage, you'll be covered.
You can also have peace of mind knowing you'll get complimentary 24/7 roadside assistance. Should anything happen, your car will get taken to our dealership for you. If it can't be fixed right away, your interim travel will be organized and paid for. On top of all that, if you're more than 50 miles from home, hotel accommodations and alternative transportation will be taken care of as well.
These are just some of the many ways we take care of our Jaguar customers day in and day out.
Visit Our Jaguar Dealer near Albuquerque NM Today!
As you can see, the staff members here at Jaguar Albuquerque are ready and willing to help with whatever automotive needs you have. If you live in the area and are considering a new Jaguar, visit our Jaguar dealership near Albuquerque, NM, today!