How Long Does an Oil Change Take?

Life in Albuquerque, Rio Rancho and South Valley can often revolve around a busy schedule. When you need critical auto services like oil changes, you want to know how much time to set aside and how soon you can get back out on the road.
How long does an oil change take? Our team is here to give you an estimate, so you can figure out when to fit an oil change into your day. We'll also walk you through the processes involved in an oil change, so you can see how the time stacks up.
Oil Change Overview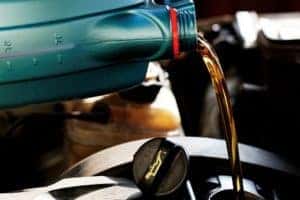 An oil change is one of many aspects of routine vehicle maintenance. It will typically involve a quick check of your engine oil's condition and level. Then, your vehicle will be lifted so the drain plug can be easily accessed and removed to let the old oil flow out. When it's fully drained, the plug can be put back into place.
The oil filter will also need to be replaced, to help keep your new oil clean and free from impurities for as long as possible. Finally, new oil will be added at the fill hole, and your oil change will be complete.
How Long Will an Oil Change Take?
So, exactly how long does an oil change take? You can expect the whole process to last anywhere from 15 minutes to 45 minutes. By far, the lengthiest step of an oil change is draining out the old oil, because your technician cannot move ahead and fill your tank with fresh oil until every drop of the old stuff is drained.
You may be waiting longer if you're having other services performed as well, like brake inspections or auto detailing. A trained technician will typically try to replace the oil filter while the oil is draining, since both processes take a bit of time and don't interfere with each other.
Why Oil Changes Are Important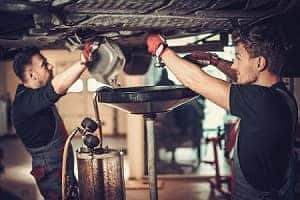 Setting aside that 15 to 45 minutes for an oil change every time your maintenance schedule recommends it is essential. In many ways, oil is the lifeblood of your engine. Fresh, clean oil works as a lubricant to keep the metal parts in your engine from grinding against each other, thus reducing friction and the risk of your engine overheating.
Oil changes help keep you safer behind the wheel, and they'll also boost the value of your car in the long run. If you neglect oil changes, you run the risk of serious and sometimes irreparable engine damage. You can avoid it all with a few routine oil changes!
Schedule Your Oil Change at Jaguar Albuquerque
When your car is due for its next oil change, you can make an appointment at our service center at Jaguar Albuquerque. We have a top-notch team of technicians that will get you in and out before you know it.
Have your preventative maintenance performed and return to the roads of Albuquerque, Rio Rancho and South Valley in record time!