Download the Leasing vs Buying a Car eBook Today
Jaguar Albuquerque is a full-service dealership dedicated to helping you find a great vehicle near Albuquerque, Rio Rancho, and South Valley.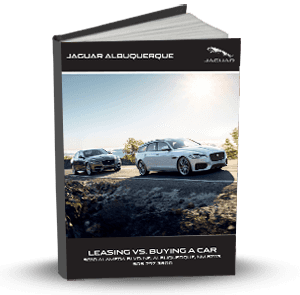 Once you've picked out a new ride, the next step is deciding if you want to lease or buy it. Both options have their benefits, which we'll go over in this Leasing vs. Buying a Car eBook.
You'll learn everything about each option, including:
How auto loans work
What exactly a lease is
The up-front costs of leasing vs. buying
There will also be a list of questions to help finalize your decision.
Not only will you have a detailed guide at your fingertips, but you'll also get a $500 off MSRP coupon to use at our dealership.
To get this eBook, simply fill out the form, click submit, and start downloading. You'll then be one step closer to nabbing your dream car.
Don't wait. Download your FREE copy of the Leasing vs. Buying a Care Book today!