Car Battery Replacement: Albuquerque NM

Your battery is responsible for getting your car started. Meaning, if it's low on power, you'll know it. Still, how can you tell if your car needs a battery replacement or if just a jump will do?
Drivers in Albuquerque, Rio Rancho, and South Valley can read about the warning signs of a truly dead battery and how to take care of them with convenient car battery replacements below.
How Long Do Car Batteries Last?
How to Clean a Car Battery Terminal
How to Test a Car Battery
View Current Service Specials
WHAT IS THE IMPORTANCE OF A CAR BATTERY?
Providing a jolt of electricity, the battery inside your car is responsible for powering all the various electrical components of your car. From starting the car to keeping it running, having a battery that has enough power in it is very important.
How do you know then when it is time to get a new battery? There are various factors that play a part in your battery's longevity, which even includes the weather. This is why it is important to frequently check and test your battery to make sure it still has the proper amount of power to start and run your vehicle.
There are also other signs you can look out for as ways to recognize when it may be time to replace the car battery, which we have detailed below.
SIGNS YOU MAY NEED A NEW CAR BATTERY IF…
Your Car is Slow to Start: Hear a clicking or cranking noise when you turn the key in the ignition? Is your engine slow to turn over? If so, a battery replacement may be in your near future. Get your vehicle tested by a professional so you know it'll always start.
Your Battery Warning Light is On: Don't forget to pay attention to these tell-tale signals from your car! Seeing the battery light or even the check engine light come on could mean your car battery's charge is very low—proceed with caution.
Your Battery is Bloated or Has Corrosion: If you happen to be checking on things under the hood and catch sight of your battery in a stressed state, either bulging from its case or with white and gritty buildup (called corrosion) around the terminals, your battery needs some TLC.
Your Battery is Up in Age: If you've been driving your car for a few years now, it pays to keep count. The average new car battery lasts between three and five years, so once you've had your car for three years, have its performance tested each year to ensure a timely replacement.
ALBUQUERQUE CAR BATTERY REPLACEMENT SERVICES
When your battery is getting old or showing signs of diminished performance, being proactive about getting it replaced is key! Count on Jaguar Albuquerque for all your battery services. With top-notch OEM car batteries and a skilled technician team to get it securely replaced and up and running, you'll be back to exploring Rio Rancho and South Valley in no time.
In addition to providing you with high-quality car battery replacements for your Jaguar F-PACE, F-TYPE, or XF in our service center, DIY types out there can enjoy special delivery—we'll ship new batteries to you if you prefer to handle the replacement yourself.
HOW TO CHANGE THE BATTERY IN YOUR CAR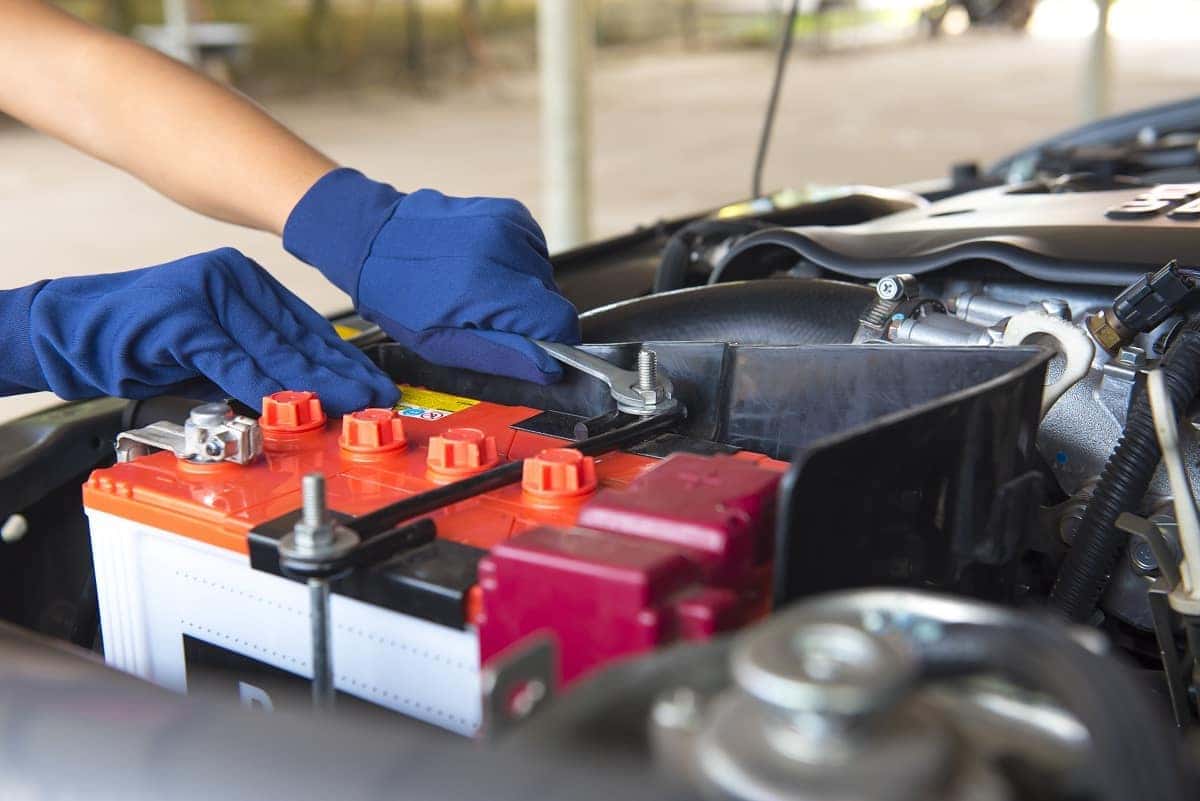 If you do decide to take on this project yourself, we wanted to provide you with easy step-by-step guidance of how to safely and properly change your car battery.
Once you have received the appropriate battery for your vehicle from us, it is time to change out the old one. The battery can be located in various places, so you first will want to identify where it sits. You can do so by looking in your owner's manual.
Step 1 Identify Each Terminal: After you have found where the battery is, you then will need to figure out which terminal is positive and which is negative. Usually a sign to tell the difference is the color. The positive is usually red and the negative is usually black.
Step 2 Disconnect Negative Then Positive Terminal: Use a wrench and remove each clamp off the terminals. Taking the negative cable clamp off first before the positive one is crucial to prevent a short.
Step 3 Take Battery Out: Make sure there isn't any other clamps or bars holding the battery in place before removing the old battery completely.
Step 4 Connect the New Battery: It is time to put in the car battery replacement. Starting with the positive terminal first, connect each terminal to the new battery.
Step 5 Finish with Grease: To help prevent corrosion, you should add a layer of grease to the battery posts.

If you are unsure about changing your car's battery yourself, we will be more than happy to do it for you. Our technicians can quickly remove the old battery and put in the new one for you so you can get back to driving with little delay!
STEPS TO EXTEND THE LIFE OF YOUR CAR BATTERY
Now that you're on the road to a replacement, check out these tips that will help you get the most out of your new car battery:
Keep Your Trip Lengths Varied: Frequent, short trips of 10 minutes or less will diminish battery power faster and can add up to a shorter lifespan over time. Try to mix a few longer drives into your routine, and as for those close-by around the corner drives, consider walking or biking if it's safe to do so.
Disconnect Devices When You Leave the Car: Take care to turn off your vehicle's interior and exterior lights and unplug charging cables to avoid draining the battery while the car's off.
Consider Insulation: If your old battery met its demise due to overheating, investing in insulation can help keep your new battery protected in extreme temperatures.
Have a question? Don't hesitate to reach out to the battery replacement pros at Jaguar Albuquerque. Schedule car battery service with us today!