Buy vs Lease

You've done your research and have gone on several test drives around Albuquerque, Rio Rancho, or South Valley. Now that you've found your ideal vehicle, you'll need to decide if you'd rather buy or lease it.
To help you out, our team at Jaguar Albuquerque created this buy vs. lease guide. We'll go over the benefits of each option, so you can make an informed decision. Read through the information below, and don't hesitate to contact our Jaguar finance center if you have any questions.

View Current Lease Specials


Benefits of Buying a Car
If you want to keep a vehicle for a long time, then buying it may be the right option for you. Not only can you drive it wherever you want (as there are no mileage restrictions), but you can also customize it to your liking.
That means you could change the car in ways like:
Repainting the vehicle to your favorite color
Adding an upgraded sound system
Adding accessories like mirror covers and rear spoilers
When you're ready to buy the car, you'll most likely need to take out a loan, which requires you to pay a certain amount each month. However, you could get those monthly payments lowered in two ways. If you're trading in a car, you'll get a certain amount based on several factors. That money will go toward the purchase of your new car, which can lower the payments. We can even help you discover how much your car is worth with our value your trade tool.
Or, you could give money for a down payment. The more you put down initially, the less you'll need to pay each month.
Since you're paying off the entire cost of the vehicle, the monthly payments are generally more than leases. Plus, the car's value will depreciate, which is something to keep in mind if you ever want to sell it.
However, once you pay the car off, it's yours to enjoy. Additionally, you'll only need to pay for things like gas, insurance, and maintenance.
Advantages of Leasing a Vehicle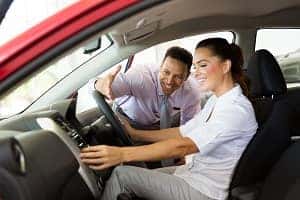 Leasing is great for people who love getting the latest model every few years. It's also great for getting a certain trim level at a lesser cost.
Lease payments are usually lower than auto loans. You're only paying for the depreciation of the vehicle's value during a lease term (typically about three years). Therefore, your payments will be on the lower end each month.
There are a few things to keep in mind when leasing an automobile. When a lease term ends, you have to return the car in the same condition as when you first got it. If there's any major cosmetic changes, you may have to pay a fee.

You'll also have to pay attention to the mileage every year. When you first sign a lease, you agree to keep the odometer under a certain number of miles (with 12,000 being the average). If you go over those miles, it could result in you paying an overage fee.
Before your lease term ends, you'll have to think about the next step. You can either trade in the vehicle for a new lease, or you can choose to buy the car. If you buy the car, you'll have the freedom to customize it and take some nice, long road trips.
Is It Better to Buy or Lease a Car?
How you decide between buying vs. leasing is entirely up to you. It really boils down to personal preferences. However, if you're still not sure which is right for you, then let our team at Jaguar Albuquerque help you decide!
We love helping drivers in Albuquerque, Rio Rancho, and South Valley drive home in their dream car. So, contact us today to get started!

Searching for the latest offers...