Drink Up with the Best Cocktails near Albuquerque, NM
There's nothing quite like a great hand-made cocktail that lets you know the work week is over and that it's time for some weekend fun. However, if you're like us, we know not just any boozy-beverage will do. It needs to be the best and perfectly suited to your unique tastes.
To help you find your favorite new craft cocktail hangout, we have tracked down some of the top-rated and favorited bars around town. So, if you're looking for the best cocktails near Albuquerque, we know you're going to find it below.
The Copper Lounge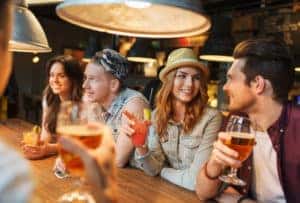 The Copper Lounge is an incredibly trendy bar that gives a nod to the art-deco era where craft cocktails were all the rage. Their list of libations includes classics like the gin gimlet, served with house-made lime cordial, and a favorite from 1905, the Fox River Cocktail, where bourbon and crème de cacao get cozy with peach bitters.
They also offer a selection of light and easy drinks, beverages for the adventurous, and so much more. However, you can't leave without trying their signature Copper Cocktail. This frothy and fruity drink is quite complex, mixing earl grey tea, gin, bitters, and apricot liqueur with lemon and egg white.
Ibiza!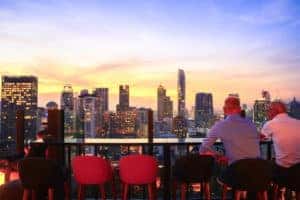 If you're in the mood for an adventurous night out or a casual drinking experience, try the rooftop Ibiza bar. While taking in stunning views of the open sky and mountains, you can sip on some creative cocktails that are known to satisfy.
Their menu features drinks by type, including Frozen, Vino, Gin, Tequila, and Bourbon. Some of our faves include the Frose, which gives you a frozen blend of Charles and Charles Rose wine from Washington state. The Brooklyn Summer is also quite delightful, featuring gin, lemon, and an egg white mixed with hibiscus syrup.
Zinc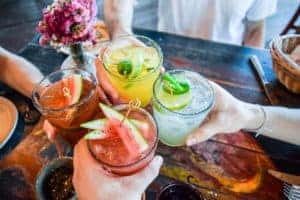 For a truly unique cocktail affair, try Zinc, which offers tasty adult beverages in their restaurant, as well as in their Cellar Bar. Their list of cocktails in both locations is sure to please, offering something for every taste bud under the sun.
At Zinc, you'll find unique takes on classic drinks, like the Albuquerque Old Fashioned. Rittenhouse rye is mixed to perfection with a blend of sugar, classic bitters, and habanero bitters for some kick. In the Cellar, try fun drinks like the Mixed Berry Honey Mojito. Here, silver rum is muddled with mint and blackberries and topped with honey simple syrup, lime juice, soda water, and powdered sugar.
What Will Your New Favorite Libation Be?
Now that you know where to find the best cocktails in Albuquerque, it's time to sip the night away. Cheers!