Benefits of Leasing a Car

If you're in the market for a luxury Jaguar model, you may be ready to explore your financing options. At Jaguar Albuquerque, we offer our customers two main choices: leasing and buying. While buying is straightforward in nature, have you looked into the many benefits of leasing a car?
To show our customers in the Albuquerque, Rio Rancho, and South Valley areas everything there is to know about leasing, we have created this handy guide. Below, you will discover the perks of this option, look at a comparison with buying a model, and see if this route is the best one for you. Let's dive right in.
Leasing vs Buying: The Ultimate Decision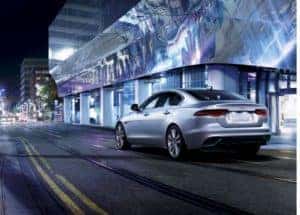 To see if leasing a Jaguar is right for you, you must first look at both options available. Let's start with buying. This financing plan typically involves taking out a secured loan through a bank or lender and making monthly payments (plus interest) until fully paid off. This results in full ownership of the vehicle until you decide to sell.
With leasing, you and our finance center experts will craft a customized contract that includes monthly payments, as well as annual mileage. Though you won't have full ownership of the vehicle, the monthly installments tend to be lower than buying. This is because you aren't paying off the entire vehicle's worth, just the depreciation while you're behind the wheel. This is a great option for those who like to always drive the newest luxury models with the latest advancements.
Why Lease a Car?
You may be wondering why you should lease a luxury car in the first place. Along with the fact that you'll have the newest set of wheels on the block, the opportunity to switch your vehicle up every few years, and lower monthly payments, there are a lot of reasons to lease a Jaguar. Let's break down some of the benefits of leasing now.
Lower Costs: Like stated above, monthly payments typically are lower than buying a model. However, the upfront costs are also less. In fact, sometimes a down payment isn't even required for leasing.
Tax Benefits: If you're choosing to lease a vehicle for business purposes, you may be eligible to receive money back when filing your taxes.
Warranty Coverage: During the duration of your lease, your Jaguar will be covered by a solid warranty. This results in easy maintenance and repairs whenever needed.
Streamlined Trade-In: If you buy and decide to upgrade at a later point, you'll have to spend time finding a buyer or going through a trade-in process. But, when your lease is up, all you need to do is sign some papers and we'll take care of the rest for you.
How to Lease a Car Today
After reading about the benefits of leasing a car, are you ready to start this exciting process? At Jaguar Albuquerque, our finance professionals make it streamlined. All you need to do is fill out a finance application and they'll get to work right away.
We welcome all drivers in Albuquerque, Rio Rancho, and South Valley who wish to learn more about Jaguar leasing to schedule an appointment today. Our finance team is waiting to see you drive away satisfied behind the wheel of a luxury vehicle today.